The Unifynd Story
Unifynd is an enterprise SaaS retail-tech business that enables brands to manage their entire customer journey across offline and online channels. Working with retail businesses across India, they optimize the end-to-end customer journey by reducing friction and generating meaningful insights, helping brands serve customers more effectively.
Founded in 2018 by Anish Jain, Jash Choraria, and Avi Jain, Unifynd was a solution to two problems observed by the founding team. The first was, "Can we mitigate the reasons why people don't like coming to brick-and-mortar stores?" The other problem was, "Can we provide in-store shoppers with the benefits they enjoy while shopping online?"
Eager to know more about their business and the benefits they've seen since partnering with CleverTap, we spoke to Anish Jain, Co-founder, Jash Choraria, Co-founder, and Rohan Mahajan, Lead- Key Account Management.
Challenges
Alchemizing Data Into Actionable Insights
"Initially, we were struggling with converting data flowing through multiple user touchpoints into actionable insights," recalled Choraria. Raw data that doesn't help marketers recognize patterns and trends in user behavior isn't of much value for a business.
It was important for Unifynd to have a complete understanding of every user in order to integrate technology into the offline user journey and equip customers with digital touchpoints to aid them in navigating stores.
Creating a Delightful Shopping Experience
They needed a marketing automation partner that could help them create customer cohorts, enable automated campaigns, and optimize user journeys across the entire customer lifecycle.
Boosting Sales and Revenue
Their key metric is an increase in sales and revenue across retail destinations. "This can happen when users spend more time shopping in the mall and continually come back to make more purchases. Coupons play a great role in boosting footfalls and sales," Choraria explains. Unifynd needed to track the coupon conversion rate and percentage of sales captured using coupons.
Solution
Many retailers use coupons as a means to increase their total sales volume. In Indian malls, this process is entirely manual: the mall's management team collects retailers' coupons, and then aggregates and distributes them to shoppers. It's an inconvenient method for both retailers and shoppers.
To redeem coupons, shoppers have to remember to bring them to the store before the coupon expires. Because shoppers frequently forget, many coupons are never redeemed, lowering potential sales and resulting in average coupon conversion rates of less than 5%. Seeing the potential for improvements, Unifynd wanted to revamp this process and reimagine shopping for Indian mall-goers.
One of their main products is Future Retail tech, a growth marketing tool for single- and multi-brand retailers in malls, helping them create personalized offline experiences. The benefits that retailers can accrue include improved customer engagement and loyalty, richer in-store experiences, and more actionable reporting and analytics.
Choraria discovered CleverTap through a power customer who used CleverTap to drive targeted and personalized communication to users.
The intention was to drive the user journey offline beyond clicks, online interactions, and transactions. According to Mahajan, the team approaches CleverTap for three things: analytics, customer journeys, and segmentation.
Real-time Analytics to Understand User Intent
CleverTap's analytics suite helps them test various hypotheses about user behavior and reveal important behavioral trends. "It's crucial for us to break down and uncover behavioral patterns among various cohorts of users, whether they complete the journey or not," explains Mahajan. Using cohort analysis, they easily compare different user groups to understand how engagement differs over time. This also helps them boost loyalty and improve the onboarding experience.
Journeys to Create a Cohesive CX Both Offline and Online
As their product is meant to integrate the offline customer journey across both a multi-brand retail format and a single brand, personalizing the experience for different target groups is based on their technological affinity across various platforms.
They have four primary channels through which customers communicate: web app, mobile app, WhatsApp chatbot, and the kiosk. "Looking at the web and mobile app, it's important for us to drive action and inaction-based communication and then curate the customer journey," adds Mahajan.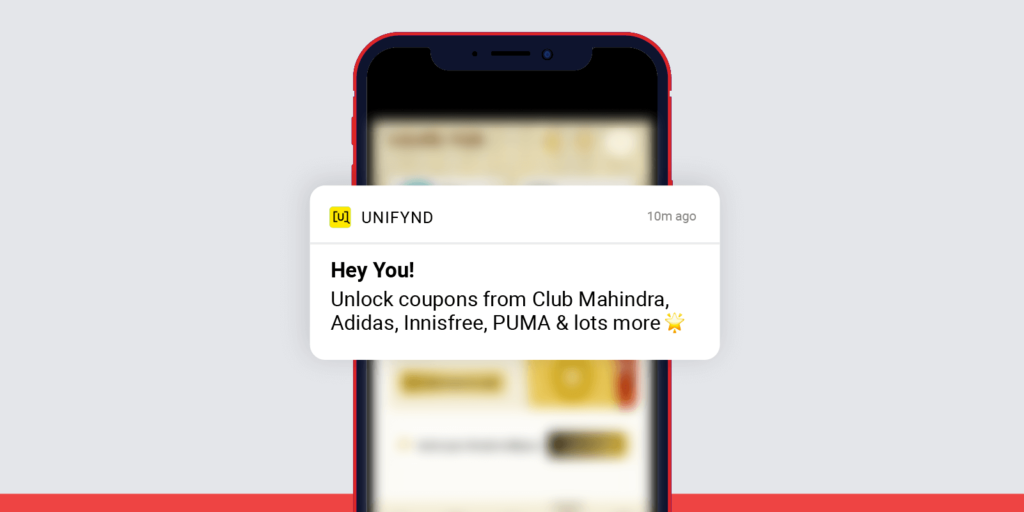 He uses journeys to keep customers informed about the latest happenings and offers daily. Apart from that, orchestrating these journeys helps Unifynd increase engagement rates and, in turn, increase sales for their customers. Additionally, Mahajan uses campaigns to send push notifications, in-app messages, and email newsletters.
Audience Segmentation to Identify the Right Target Audience
The business model of the mall is such that retailers are its primary customers and visitors are the end customer. Some retail stores have higher foot traffic, leading to more sales and revenue. On the other hand, there are stores that lag in sales. When malls run marketing campaigns to drive visitors to the mall, there is no visibility into the behavior of users once they enter the premises.
"With segmentation, we understand how users navigate their way through the mall and where they decide to shop. Most importantly, if a new store opens up, we know who we can target to drive foot traffic and sales," explains Mahajan.
Results
"Historically, mall destinations have only driven footfalls into the mall but with no focus on converting these visitors to customers. This is where our product coupled with CleverTap fits in: helping us convert these visitors into customers and loyalists," says Choraria.
Unifynd's current coupon conversion rate stands at 83%, achieved by launching coupon programs that are customized based on user preference and availability. Additionally, by sending targeted communications for coupons of certain brands, they've seen a 44% increase in sales in just one month. Overall, Unifynd has helped malls drive sales of $1.3 million using targeted coupons.
What's next?
"We're trying to launch a payment inclusive environment for our customers, allowing them to make payments through UPI and other such mechanisms," says Jain about Unifynd's next step. Partnering with Unifynd and helping them improve the coupon conversion rate for malls has been a gratifying experience for us. We are proud to be a part of their mission to redefine offline shopping for millions of Indians.